PAGE < 1 | 2 | 3 | 4 >
We received our house today! Both my husband and I were tearful setting it up. So happy. It was TOTALLY worth the wait! It's gorgeous! I will send pics. I will also leave glowing reviews on all your sites.
I can't believe we actually have it. I understand you are busy and I needed to be patient! From my first down payment, we received it August 6, 2016. Well worth the wait!! But we got it in plenty of time for Christmas and all our family coming in this year will be able to appreciate it! I can't tell you how happy and excited I am. Today is like Christmas in August!! I can't stop staring at it, with tears and smiles. Thank you and God Bless your family!
- The McLaurine Family
It was delivered on Wednesday and it is beautiful. We can't wait to set it up this year for everyone to see. You truly do beautiful work and is one of our family heirlooms that will be treasured for generations. These are truly a work of art. Thank you again for such great craftsmanship.
- The Johnson Family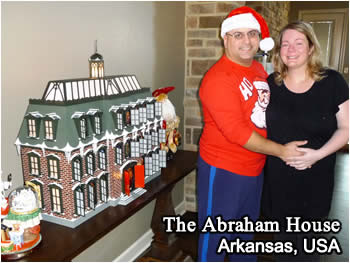 My wife has been talking about the Christmas Advent House for as long as I can remember and she had wanted this more than anything in the world! Raymond and Jacqueline were wonderful about understanding how much she would love it and went above and beyond to make it special for us. This year we are having our first baby and I was able to surprise my wife before the baby came in January. It's amazing how two people can have such compassion and caring to make Christmas special for absolute strangers, they cared as much about surprising my wife as I did!
Receiving the Christmas Advent House in time for Christmas was absolutely magical! My wife broke into tears when she opened it on Christmas morning, and she hasn't stopped admiring it since! It absolutely made this Christmas the best Christmas we have ever had, and we'll definitely be proudly presenting it in our home every Christmas from now on. One day it will be handed down to our children and grandchildren as a family heirloom! The craftsmanship and the work that Raymond and Jacqueline put into it is impeccable. The amount of detail that they have put into each and every inch it is indescribable. Although, the pictures on the website are beautiful, it is nothing compared to when you see it in person, it absolutely takes your breath away!
They were so wonderful about communicating with me every step of the way, and would always return my calls and emails! We called them after we opened it Christmas morning, and we felt as though they were part of our family! What a wonderful experience this has been from start to finish, they were very professional, warm, endearing, and made every effort possible to get it in time for Christmas so that we can enjoy it Christmas morning!
For those of you still waiting for your house, do not get discouraged because it is definitely worth the wait! Believe us when we say that you will not be disappointed in the final product! It truly is a work of art! And to Raymond and Jacqueline, don't ever doubt that what you guys do is anything less than magical! Please know that you are the closest thing to what Santa Claus and the spirit of Christmas is in this day and age! The Christmas Advent House is everything that Christmas is supposed to be! Keep up the wonderful work because the power of the good you do is profound! Thank you both from the bottom of our hearts, we will never forget you and the joy that you have brought us!
- The Abraham Family
Thank you guys very much, it is perfect! We really appreciate the work it took to make the house for our family, keep up the good work.
- The Wheeler Family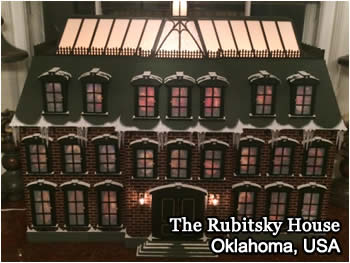 It has been a really, really long time since I have been giddy. Last night, I truly was! My Christmas Advent House finally arrived and like those before me, I must say it was worth the wait! It is truly a work of art. It had been a long wait as unforeseen vendor issues delayed the building process, but in the end, I received more than I could have ever imagined. The house is beautifully crafted with such attention to detail! When it is lit, the glow of the pictures as you open a window steals your breath away.
This treasure is not just a holiday decoration, but will serve as heirloom that I will pass on to my children one day. It will serve as a symbol of home and tradition for my family that has endured many moments of instability in the last few years. It is a shining light in our journey as a family.
Thank you Raymond and your family for blessing us with this beautiful house. Thank you for kindly responding to our impatient inquiries and staying committed to building such a beautiful product.
With sincere gratitude.
- The Rabitsky Family
Received the package early today. Unboxed it and carefully set it up. What a piece of art! Thank You Very Much for completing this project for us.
- The Wiley Family
I am thrilled with my advent house. I was confident it would be well made but the attention to detail is beyond any expectations. The workmanship in this house is tremendous and it is something that will truly be a treasured family heirloom. Once my holiday decorations are out and my advent house is the perfect setting, I will send you a picture. Thank you and happy building!!
- The Potrzuski Family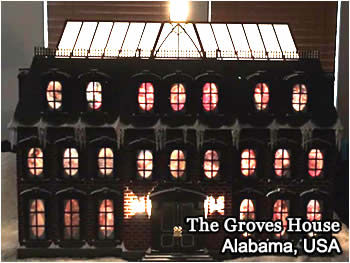 I was thrilled that my family got to see my gorgeous House! They were all absolutely stunned! I personally was amazed at the amount of care that you put into packaging the House for its safe travel to my home. I would have been shocked if any damage had come to it! Honestly, opening my House was like I had received an early Christmas present - each part of the package carefully unwrapped and revealed. The suspense that built just trying to extricate the House from the box felt like Christmas! I even had snow (in the form of packing peanuts).
Once the house was revealed and the back could be viewed, I teared up as I saw the Groves family plaque on the back. I wish my father was still here to see it, but I know he's looking down at us and enjoying our pleasure. I did feel his presence in the wood burning work on the House as he enjoyed wood burning when he was younger. My brother still has a few of Dad's pieces at his home.
I should say that the entire House felt like a present. Every bit of tender love and care (so obvious in the exquisite craftsmanship) was a gift. Each tiny little detail was exclaimed over by myself and my family. My niece and nephew particularly loved the lights and window images. I apologize for not getting pictures of them looking at the House - they're 14 and 10 and are at that stage where they don't like being in pictures.
All in all, this House is well worth the wait! It is, to be a bit cliche, a work of "heart"! I will treasure this House in the years to come and look forward to enjoying it during the Advent season. As soon as it is set up properly, I will be sure to send pictures.
God bless you and your family!
- The Groves Family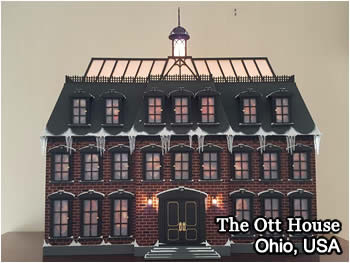 It is Christmas in May at the Ott Household. We received our Christmas Advent House Friday. We didn't open it until yesterday since everyone had to be home to do the big reveal. Well worth the wait. We can't wait to properly display it at Christmas. I have attached a couple pictures. Thanks!
- The Ott Family
Everything is wonderful! I got home really late last night, opened it, oohed and ahhed, and went straight to bed. I was exhausted. (I had an exceptionally long day yesterday and then an early morning today).
My husband and I are both so happy with the house. I can't believe all of the amazing details that went into it. Probably the most perfect part is that the house was delivered on the day that we closed on our first actual home together. How awesome is that?!
- The Cool Family