PAGE < 1 | 2 | 3 | 4 >
My husband and I were alone last night….so we poured two glasses of wine and opened it. We put it together with the final touches, turned it on….turned out the housed lights…. Sipped wine….and I cried.
Thank you so much for all of your hard work! It is truly amazing! So plan B will be to pack it away and unveil it to the rest of the family on Thanksgiving Weekend when we go get our tree. Yes….we go out to the North woods of New Hampshire and cut down the biggest tree we can find … throw it on top of our car or truck and hull it home….Sound familiar?

Thank you again, and I promise to send pictures on Thanksgiving weekend!
- The Roth Family
The craftsmanship put into the house is something I admire greatly. As someone who worked in manufacturing for 20+ years I can really appreciate fine work made in the USA.
- The Rose Family
Raymond and Jacqueline, My husband and friends love the movie Christmas Vacation. Every December we meet at a historical theatre in Birmingham, Alabama, The Alabama Theatre, to watch the viewing of the movie. It has become a favorite holiday tradition for us.
Four years ago I searched online for the advent house that is shown in the movie. I was overjoyed to have stumbled across your website. I immediately asked to be put on the waiting list. After a long, but very worth it, wait my Advent House has arrived. The house is beyond amazing! We are overjoyed.
Our 3 year old was so excited to help open the box and see what was inside. Each time she opens a window, she expresses the same amount of joy. She loves her new house. We look forward to starting the tradition this year at Christmas of opening the windows to count down to Christmas Day.
This house will be in our family for many generations to come. We thank you for creating such a beautiful piece of art. The detail and craftsmanship is amazing. Thank you for adding a special treasure to our Christmas holidays.
- The Sansing Family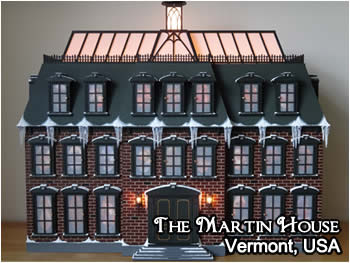 Unpacking and setting-up our new house was like seeing the Grand Canyon for the first time. No matter how many pictures you have seen or descriptions you have read, you can't truly comprehend the beauty and magnificence until you see it with your own eyes.
It truly is a spectacular work of art made with the highest quality of workmanship humanly possible and an attention to detail seldom seen these days. It is obvious that only somebody who truly loves what they are doing could produce such a quality heirloom piece.
As the day faded to night, we turned on the lights and just stared at the house while commenting on its elegance. I then went over to open some of the windows when my wife told me to stop, as she wanted to wait until December 1st so as not to spoil the surprise behind each window!
For those who are contemplating having a house commissioned, all we can say is go for it as we absolutely guarantee you will not be disappointed. And for those who have placed orders and are waiting for their own house, be patient because in the end you will be well rewarded. Once we got placed on the wait list, we never called or e-mailed requesting the status of our house. We just figured we would rather have Ray and Jacqueline building houses instead of answering phones and writing e-mails.
Our sincere thanks from our family to yours for a beautiful Christmas Advent House that will be treasured and enjoyed for generations to come.
- The Martin Family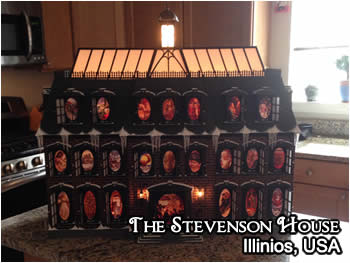 I was so happy when I set it up my Christmas Advent House. I was speechless. The craftsmanship you and your wife put into it is truly amazing. It was well worth the wait.

The Stevenson House here in Chicago , IL will be passed down through the generations. I really, really do love it!!!

If anyone I wondering if they should order one, you should!! This is truly one-of-a-kind. No one else will have one as you do. We throw many parties and I 'm sure I will hear plenty of comments on this Christmas Advent House for years to come.

One more thing is the packaging that the house came in was amazing.

- The Stevenson Family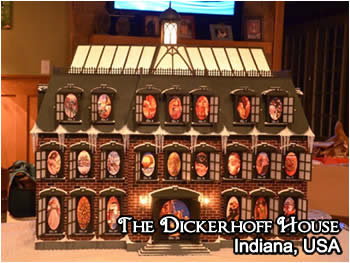 Well boy oh boy! We received our Christmas Advent House this week and waited for our son to come home from college so we could all open it together this weekend.
However we just could not wait any longer and opened the package up tonight. I have been online reading when others have received their Advent House and was always green with envy....but this was sure worth the wait! The attention to detail, the supreme packaging and the nifty little unique extra element was all worth the wait.
The kids were surprised and very impressed, and they seem to be getting hard to get impressed any more.....we turned off the lights in he room, and all took turns opening one window at a time. Then we just sat back all four of us on the couch staring at it and saying what our favorite windows were.
It was a job well done and it is evident the love, care and attention to detail that is built into the Advent House. We cannot wait to light it up and start opening windows this December. Thank You Raymond and company.
- The Dickerhoff Family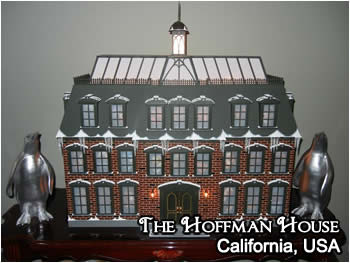 The I am so sorry about the delay in sending you this letter of thanks, wonder, fulfillment, awe inspiring, beauty, and absolute masterpiece! Yes I am talking about The Hoffman Christmas Advent House we received before Christmas 2013! The whole family fell in love with our house the minute they laid eyes on it!
My husband and I started a new "family tradition" – every night my husband would get home from work our cat Flareon (passed January 23, 2014) would meet him at the door. Al would pick her up and then they would come into the family room to give me a kiss then immediately go into the living room to open the next window of our Christmas Advent House! What a thrill to see the two of them do this day in and day out. Loved it! But this new tradition was to be for only Christmas 2013 as we found out in December that our baby girl had cancer.
As much as our hearts ache for her, every time I look at our house, I find that I am smiling because I visualize Al and Flareon looking at the beauty of this house! Thank you so much for delivering this house to our home in time for Flareon to enjoy it.
The Hoffman Christmas Advent House is proudly displayed in our living room still and will most likely remain there year round. We just can't bring ourselves to putting it into a box for 11 months and only out for 1 month. Are we crazy? NO, we are in love with this masterpiece!
The whole Hoffman family thanks you Raymond and your lovely wife Jaqueline for your dedication in making this amazing Christmas Advent House!
- The Hoffman Family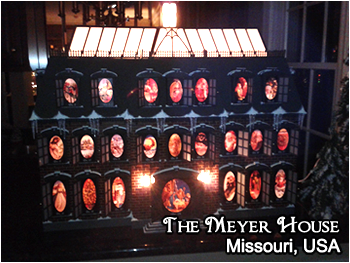 The house is a HUGE hit with all of my family, including my impossible-to-please sister-in-law. It was definitely worth the wait. Thanks again for exceeding all of our expectations.
- The Meyer Family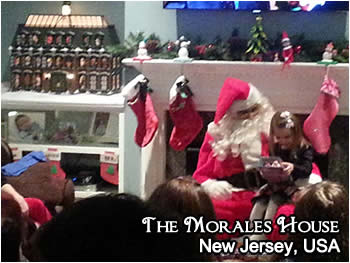 All I can say is this was worth every bit of waiting for. It is absolutely a beautiful piece of art. We love it. Now I just need to keep my 3 yr old daughter away from it lol. We love it and this is definitely something we will pass down from generation to generation.
I text pictures to a bunch of my friends and everyone wants one now lol. All I can say is thank you. This is the final piece of the puzzle and i know this will be the talk of our parties. First party was today and then Christmas eve and then on christmas.
All I can say over and over again is thank you to you and your wife. You made this happen for us and we are extremely thankful. I am already getting ideas of what I can put around the house next year.
Our party was amazing. We had about 30 friends and family over and the house was an absolute hit. It really meant a lot that we had it today with our new house, my wife, my daughter and our new son. And Santa even showed up today for the kids. I believe you and I will always have a connection because of this memory. God bless raymond for you and your family.
- The Morales Family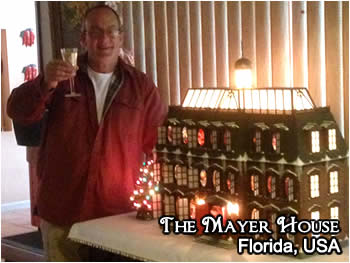 Upon much anticipated delivery of our Christmas Advent House, the first thing we noted was the excellent condition of the shipping box. We carefully scooped out the Styrofoam peanuts and removed the House and set it on the dining room table.
I've read in other testimonials and heard from Raymond himself that pictures just do not do justice to the actual article. It's true, it's true! You have to see it from every angle, touch it all over. It's a sensory experience, visual and tactile. My wife asked me "where will we put it after Christmas?" I said "Nowhere, the sideboard will be it's permanent home".
Nothing was overlooked, every detail was just perfect. I defy anyone to look at it and be able to think of any improvement. I am so happy to have joined the family of Christmas Advent House owners.
To anyone considering commissioning a Christmas Advent House, do so, you won't be disappointed. You will need to be patient, but oh the rewards for such patience. Thank you Elling family for so enhancing my Holiday experience. Yours in the Brotherhood of CAH owners, John and Deborah Mayer
- The Mayer Family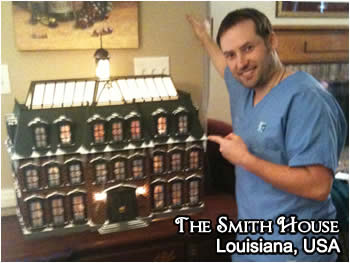 Amazing, Raymond! Simply amazing. I love everything about it, especially how you put the grandparents pictures matching on each side. We have a framed picture of their house which looks strikingly similar to the CAH that I'm going to hang over it.
Just wanted to say a quick thank you for this awesome family treasure and a happy and blessed thanksgiving to your family!
- The Smith Family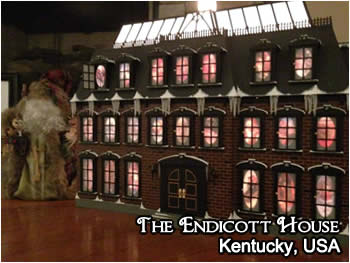 What can I say other than AMAZING! The quality of work put into this thing is EMENSE! Every detail is painstakingly hand-crafted and of a wonderfully high quality.
It was quite a joy to get to finally plug it in and open our first few windows. We are just in awe of such a wonderful piece that will remain in our family hopefully for generations.
- The Endicott Family
Giddy and reverent.
I keep thinking of how to express to your family how I feel, and those two words sum it up best. Sort of like Christmas, uh? The part of seeing again like a child and then the awe that the season brings. I'm certain I've wanted this house most of my life.
Your house - I guess it's our house! - it feels like a gift you've given us instead of just a purchase. It's every bit as magnificent as described. I find I want to touch it - not with my fingers - but with my fingertips. I want to stir up the snow that's clustered in the corners, and I'm unreasonably fascinated by the shiny, gold handles on the front doors. So tiny!
This is, quite possibly, the best Christmas gift of my adult life. I'm entirely captivated. How will my husband ever top this?! ;-)
Most of all, my thanks to your family is from three little girls. Our two, ages 3 1/2 and 1 1/2 - it's safe to say they won't remember a Christmas without our house. And so I thank you, not only for the heirloom, but for the tradition. And the last little girl is the one inside of me, who has dreamed about this house for a long time, and who will cherish it always. Best wishes for a merry Christmas.
- The Bowersox Family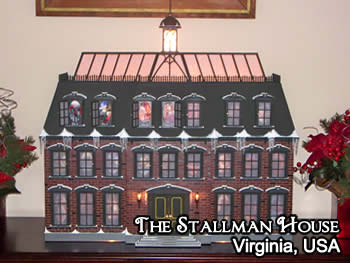 First and foremost, THANK YOU! You are bringing so much happiness to everyone making these beautiful pieces of art.
Second, I was finally able to display the Advent House today and oh my goodness, how absolutely STUNNING! Your attention to detail is beyond real; there are so many special touches that you add which makes this house so very special.
Years ago, I started the search for a Christmas Advent House for my husband. After that I started looking around to see what I could find. Coming across your website has been more than I could ever ask for. You and your family are the most wonderful people and have made my dream of purchasing a house come true. It has been great working with you guys throughout this process; I can't imagine working with anyone else.
So, thank you again for the most beautiful, stunning, gorgeous, and artistic piece of work in my house. It is definitely the centerpiece of my decorations and it will be treasured for years to come.
- The Stallman Family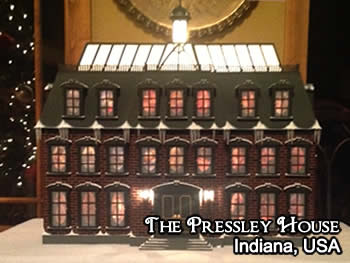 It's here and I love it! My youngest son walked into the living room and I was so happy that he knew what it was immediately. Thank you a million and one times for making our Christmas dreams come true! You are truly an excellent craftsman!
Much love to you and your family!!!!!!!
- The Pressley Family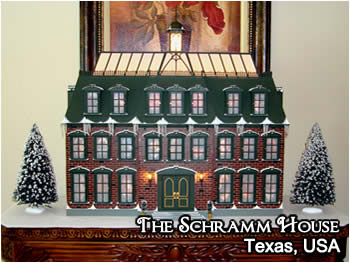 About a year ago, it was as if I had won the lottery. I obtained one of the lucky spots of the "first come, first commissioned" houses. Now my house has finally arrived! The Christmas Advent House is absolutely exquisite! The construction and painting is seamless. Your craftsmanship is amazing and your attention to detail is second to none. Pictures of the house, while beautiful, do not show how stunning it really is—the sight of it is something you must experience in person.
I always admired the house and I was lucky to find someone as passionate as you and your family that build them. It was truly a pleasure to work with you throughout the year. The process of building the house was fun, and I'm almost sad to see it come to an end! This Christmas season will be extra special because of it, and I know there will be many more to come. Again, I appreciate all your hard work and dedication on building Christmas Advent Houses. I can't thank you enough!

- The Schramm Family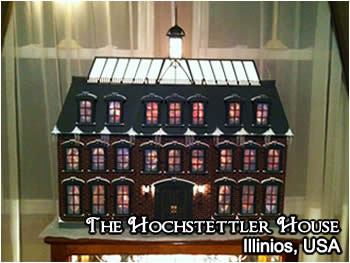 Thank you so much for my beautiful Christmas Advent House!! It is absolutely gorgeous and SOOO worth the wait!! The poor FedEx guy thought I was some kind of crazy person as I was flagging him down as he passed my house Saturday morning!! When I told him what I was waiting for, he wanted to come in and watch me set it up!!
The quality of craftsmanship you put into each house is absolutely flawless!! My father who was a masonry contractor would have been so impressed with the high quality of your work. I have dreamed of having one of these houses and the wait has been more than worth it!! It is even more beautiful than I could have imagined!! You have made my whole Christmas!!
I have several friends who are dying to see the house in person, so I will be having a Holiday Open House just so they can come see it!! They have heard me ramble on and on for months about my excitement, and now they all want to see it!!
Thank you again "Santa Raymond", Jacqueline and elves for making for making this Christmas Nut's dream come true!! You are the best!!

- The Hochstettler Family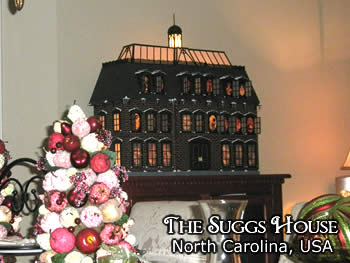 You have truly outdone yourselves. The craftsmanship is outstanding. It's rare to find people that do such excellent work and are so pleasant to deal with. Having our family name on the mailbox is such a great touch to the house. The attention to detail makes it so outstanding. It will be a treasured part of our family Christmas decorations for years to come.
We placed it in the center of the living room. And, we had to go ahead and light the house on Saturday just to admire it - we officially lit it today:). My wife has commented every 20 minutes or so on how much she likes the house. She also mentioned that it would be something that we would have in our family for generations.
Thank you for all that you have done to build such a beautiful house.
When my wife said a year ago that she wanted an Advent House, I don't think we ever thought we'd be able to get one like this - it's awesome.

Thanks again. Merry Christmas.
- The Suggs Family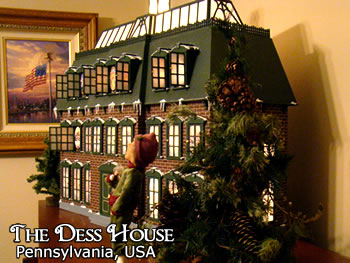 I haven't felt the Spirit of Christmas for about twenty years. I do now, the feeling overwhelmed me as I unpackaged my Advent House. You did an outstanding job, the craftsmanship is amazing.
Every year, the neighbors and I get together for what we call "The Viewing" of Christmas Vacation. The moose mugs last year were a huge hit. This will blow them away.
Thank you so Much!!!!

- The Dess Family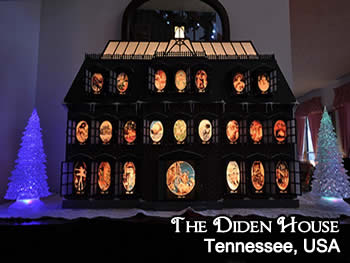 My mom bought this after many years of looking for an Advent House.
- The Diden Family
I am totally stunned and overwhelmed with how beautiful this house is.
- The Sekera Family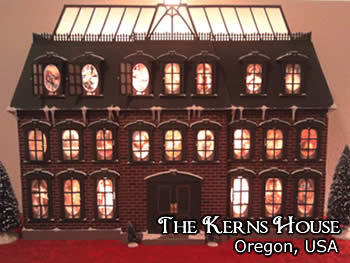 I just received my house and I have to say it is beyond our expectations. I can't stop staring at it! Thank you, thank you, thank you so much. It's Christmas in September!
We are so enjoying the advent house. I have dreamed of having this since the late 80's. It is a dream come true. Every day it is exciting to see what the window will enclose. We only checked out the first few days when we received as to be surprised each day as we count down to Christmas.
It will truly be a treasured family heirloom. There are already "claims" as to who will inherit it someday.
Thank you so much for making this holiday season truly special. It was well worth the wait.

- The Kerns Family
I finally bought my wife a Christmas present that won't be returned to the store. I fully unpacked the house last night in order to give it to my wife this morning, and IT IS BEAUTIFUL. The workmanship and detail are way above my expectations and my wife absolutely loves it. Thank you very much for the fantastic Advent House and continued good luck in your venture.
- The Murphy Family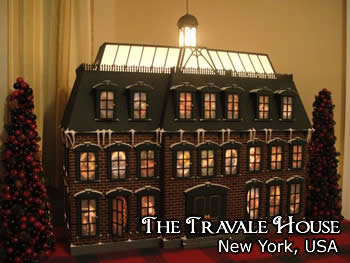 It's Christmas in the Travale home today. Our Christmas Advent House arrived yesterday and we opened it up last night. As soon as we set the house in its new home it became clear to us that we now needed all new furniture in that room.
This house BLOW'S EVERYTHING in our real home away. The craftsmanship and detail is simply amazing. I can't believe that anyone in today's world would spend so much time and effort creating and building something as beautiful as this Advent House. THIS HOUSE IS A LOT BETTER BUILT THAN THE HOME WE LIVE IN. And we live in a nice home.
I must say however I'm a little sad that the ordering building process is over. We have enjoyed working with Raymond and watching the building of our Christmas Advent House so much, it's a shame it has to come to an end.
Raymond is the "MOST PROFESSIONAL" vendor I have ever dealt with, and dealing with vendors is what I do for a living. These Christmas Advent Houses are a true labor of love for Raymond and his family. He would send me updates on its progress online at all hours of the day and night, sometimes in the middle of the night. I couldn't wait to see what he did next.
After dealing with Raymond, and seeing our new "FAMILY TREASURE," I would easily pay $2000.00 if I had to do it all over again. Anyone who thinks that $995.00 is too much hasn't seen a house in person.
To all who read this all I can say is Christmas is a very special time of year for our family, and if you're on this site it probably is for yours too.
If you really want one of Raymond's Advent Houses, BE PATIENT, as we were, and when he takes orders again get in line because I promise you, the SPIRIT of ordering, and then watching building process, will last you and your family a lifetime.
After all isn't that what CHRISTMAS is all about?
- The Travale Family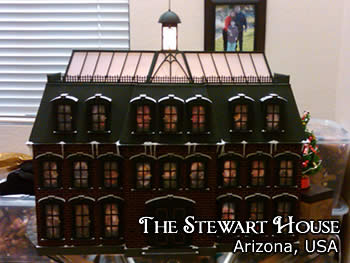 First, from all of us and from our deepest heart – thank you! We got the box this morning and all of us in the office eagerly opened it right away and put it up. It is currently displayed in my office. We then got Craig over here and surprised him. His look was priceless. He said it is so beautiful that he wants to keep it displayed all year long in his office – which he will most likely do.
The part that meant the most to me was the plaque and the thoughtfulness that went into it. This is a piece that we will cherish for many many years to come.
It is so inspirational and means more to us than you know. To see each brick and the hard work and effort that went into it – what more can I say than "wow".
You are a special part of our lives now and each year we will be thinking of you. We wish to keep you on our holiday mailing list as I consider you an extended family member now.
Thank you again from our hearts…..I can't express enough the gratitude we have and how much we all appreciate it.
- The Stewart Family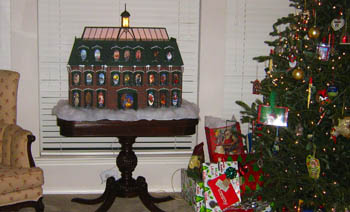 Our Christmas Advent House arrived at our house on Christmas Eve 2009. The boys and I knew it was coming, Mom did not. A day before the arrival, we picked out the perfect snow-like cotton fluff on which to create a table presentation for the house and surprise Mom when she came home from the last of her never-ending Christmas errands. We knew the air would soon hang high with the sounds of Carols being sung, the smell of turkey, gravy and everything else imaginable on Christmas Day.
Mom arrived home to a darkened house with a single light next to the lit up Christmas tree. Words cannot describe her..lack of words..for 10 minutes. Now, for a Mom to have nothing to say with 2 boys and a Dad (her 3 kids) running around at Christmas time, that's saying something!

Merry Christmas from Deep in the Heart of Texas to All from our entire family; Mom, Dad, boys, yellow dog and yellow cat.
- The Osvold Family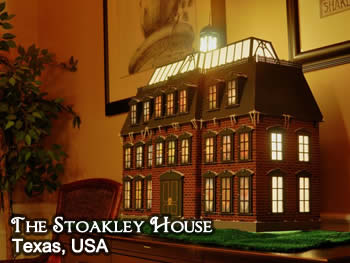 We want to tell the world how much we love the house!!!!!
- The Stoakley Family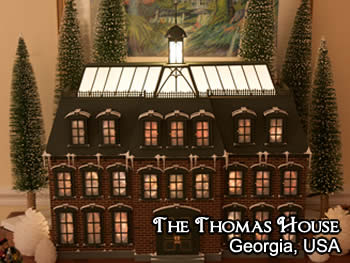 Christmas has come early here!!!!! I can't tell you how happy we are with the house. It is perfect and was well worth the wait.
We have already set iy up in the dining room, and I'm half tempted to pull the tree out of the attic!
- The Thomas Family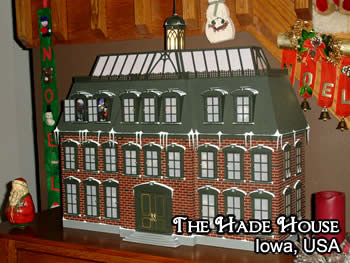 You have made our holiday season for this year and many more to come. The Advent House is amazing!! The detailing and craftsmanship is everything we had hoped for and much more. The surprise designed only for our house was a very special and personal touch. We open every window together in the evenings with great excitement, wondering what will be behind it.

As you know my brother has a different advent house and when he saw mine he was very jealous. After a few years parts of his house are already deteriorating. He informed his wife that he is ordering a new Christmas Advent House from you.

Wishing you all a most joyous holiday season!

- Jon and Tina Hade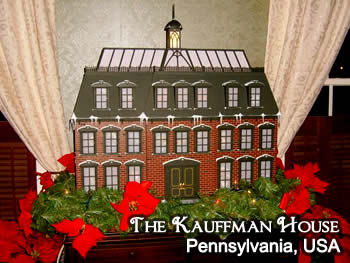 First off, I'd like to say "Thank You" for building such a beautiful house for us! Our family is delighted at the newest addition to our holiday decorations! We tried another company at first for a house but unfortunatly, was deeply let down. But a friend of ours found this site and encouraged us to try it, and so glad we did! I can not express enough the attention to detail that the house has! Also we love the 'added extras' to each house to add more personal feelings to it!
For those others who may be on the waiting list all I have to say is please be patient and you will not be disappointed! We were so pleased to find this compny, and once we discovered that each house was made with so much pride (as well as love), we were sold!
This house will no doubt become a family heirloom and will be passed down to our daughter and hopefully her children.
Blessings to all of your family and keep up the fabulous work!
- The Kauffman Family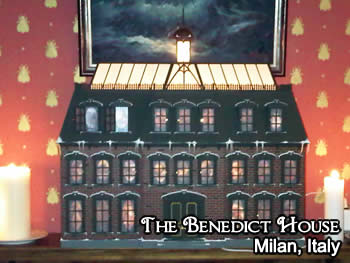 The advent house arrived. It is an amazing piece of craftsmanship. I am sitting here enjoying Christmas. You and your wife have truly done a beautiful job. Thanks also for the custom plaque and "little detail". Great touches!
When my husband, Ryan, first told me he had ordered the Christmas Advent House I was thrilled. So, when he woke me early this morning on our tenth wedding anniversary to present me with the house, it was like an early Christmas morning.
My two children, under strict adult supervision, opened each window with wonder. The graphics behind each window are gorgeous, each one more so than the next. No detail has been spared in completing this project. There is just no comparison to this house when it comes to the Advent genre. It is beautifully crafted and wonderfully detailed...
Thank you both for your passion and commitment.

- The Benedict Family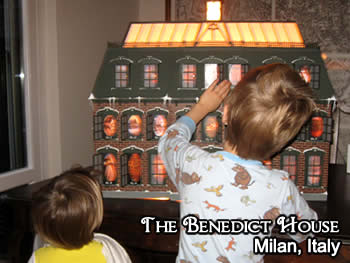 Raymond, what can I say to express how wonderful this Advent House is. The craftsmanship is extraordinary the pictures are beautiful. This house will be a family heirloom for sure. The only problem is I have three children so I guess I have to order two more houses so they wont fight over who gets it. Thank you so much for building these houses they are wonderful. I would love to hear the story someday on how this all began and what you had to go through to have a finished product with such great craftsmanship and detail. All my friends and family are very jealous. I plan on taking pictures and putting them on facebook, although this may take a while since I am not very computer savoy. Once again thank you so much I could not be more happy.

- The Shultz Family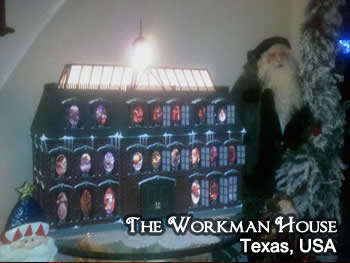 Raymond, I know you have spoken with my wife, but I wanted to personally thank you for getting our house out in time for Christmas. I am blown away with the quality and detail you have integrated into the construction of this. This will truly be an heirloom piece in our family for generations. Our youngest daughter is coming down from Colorado to join us here in Texas for Christmas and I can't wait to see her reaction when she sees the piece for the first time. As I said, I have been trying to find this Advent House since 1989. This officially goes on record as the longest search I have ever conducted in my life trying to find something. Well it is finally here, lit up and proudly displayed in the entrance to our home. If it is at all possible with my anticipation building every day once I knew we were set to receive the house, it has truly exceeded my out of proportion expectations.

Thanks again and Merry Christmas,

- The Workman Family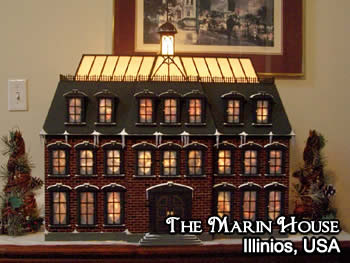 We received the house this afternoon. It's beautiful beyond words!

Thanks again for all of your efforts! We will enjoy this art piece for the rest of our lives.

- The Marin Family
I was starting to think this day would never come, but I finally received my house today, and it was well worth the wait! It is awesome, much better than I expected. I can't believe the level of detail. I can't begin to imagine how long it took to painstakingly layer all the 3-dimensional snow piles on the eaves, in the crevices, etc. It really adds to the effect and makes the house look very realistic. Instead of just painted on, it looks like each number was carved into the wood, and I don't know how anyone could cut out all those little fence posts. There's just so much to look at, so many small touches. Even the bricks are textured and have little grooves in between each one like real bricks do, where the mortar would go. It all really is amazing. Very professional. Thank you!

- The Weaver Family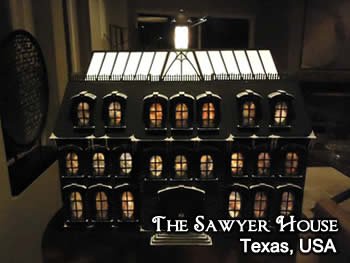 Our Advent House has arrived....and we must say--it was so worth the wait!!!! You do such a wonderful job Raymond, and we are so excited to have such a unique decoration to display during our favorite time of year!

- The Sawyer Family
It is spectacular!!! It is beautiful!!! The quality is superb. Everything was in perfect condition. The packaging worked very effectively. All the components were thoughtfully organized. We're delighted and can't wait to unveil it as the centerpiece of our Christmas decorations. I will be happy to send you pictures come December and it's showcased amidst our collection of nutcrackers.

- The Schleper Family
THIS HOUSE IS ABSOLUTELY BEAUTIFUL!!!!!!
We previously purchase another version of the house from someone else. We couldn't help but compare the two when we received it. The quality in this house definitely exceeded our expectations. I knew when I saw the pictures on your web site that if it was possible to obtain this Advent House, there was no doubt in my mind that it was going to be perfect for us. When we received it, my husband who is very particular about a solid construction, could not find any flaws compared to our original purchase which he said was "nice but he would have done it differently".
My husband, has been in construction since he was 18. He is a General Contractor and owns a Commercial Construction company. He was so impressed! He said it was very professionally built. He was especially intrigued with the way the roof seams were completed.
I want to thank you and your talented family for this treasure. It will remain a cherished part of our family Christmas celebrations for a many years to come.
- The Johnson Family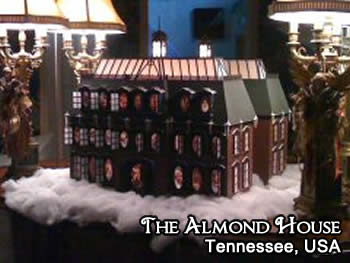 Words cannot express the awe that my husband and I feel when looking at our house. I have never seen such attention to detail and the absolute perfection of every aspect of this incredible family heirloom. I literally had chills as we assembled it.
The loving care with which you built our house is so obvious in every icicle, window molding, widow's walk railing, everything! Even the way it was wrapped for shipping was incredible. It was absolutely worth the wait and we feel very fortunate to have such a treasure. You are very special individuals who take great pride in their work and craftsmanship. A real rarity these days.
Thank you so much for the gift of your excellence.
- The Almond Family