PAGE < 1 | 2 | 3 | 4 >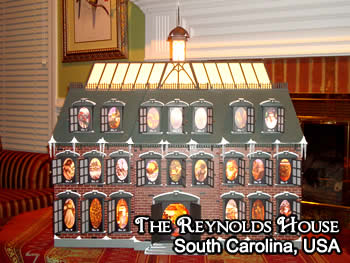 After a long wait through two (different) manufacturers, my advent house finally arrived on a Thursday. Even though it was August, I knew I would keep it displayed until next New Year's Day. I had waited too long to lock it away in a closet so soon!
Unpacking it from the box, I felt like a little kid on Christmas morning. With minimal assembly, I quickly opened all the shutters and doors and plugged in the cord. Turning the in-line switch, I watched the windows and doorway come alive. I couldn't take my eyes off it!
The scenes in the windows are soft and soothing. I love the Victorian themed windows best. They remind me of a less hectic way of life, but I'll pass on the live candles on the tree!
Weeks later, I'm still amazed by the detailed craftsmanship. All of the window trim, the dormers, and the doors are made of wood. I had assumed they would be molded plastic. The snow capped windows and the icicles hanging from the roof announce winter has arrived. The dentil molding over the windows is a great touch – just what you'd expect on a house this size. There's even a surprise detail!
I'm so happy I kept searching and found this family run outfit in South Carolina. I couldn't be happier with their work, and I know I'll be enjoying my house for years to come! he house is here, and it's amazing!!! I love it!! The images in the windows are great, especially the Victorian themed ones.
- The Reynolds Family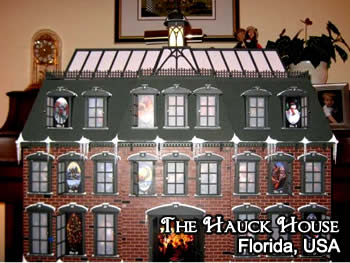 We receive two (2) lovely testimonials:

1.) I was pleasantly surprised by the early delivery. I waited till my wife arrived home and announced her Christmas present was in the living room. I'm normally a stickler about waiting till Christmas Day to open presents but this was too good to keep under wraps. We both carefully unpacked the box and her reaction when she realized what she was looking at was priceless. We are ecstatic. Your house is a work of art! Your attention to detail and unparalleled workmanship is apparent in all facets of the finished house. The personal touches you added to make this "Our Advent House" were indeed appreciated. In just over a month, our daughter will be getting married. We will be entertaining many family and friends and the Hauck Family "Advent House" will be proudly displayed. This will be a very special Christmas and we have you Raymond and your wife to thank. From our family in Pensacola, Florida we want to wish you and your family a blessed and merry Christmas and a happy and healthy New Year. Cheers!
2.) I am overwhelmed! I have wanted one of these houses since I first saw the movie in the theaters! It is even better than I could have imagined, the way you personalized the home! The pictures in each window and the detail are awesome!! I can't wait for Christmas and decorating around it. I love the picture on your Facebook page with the tall Christmas Trees around it! Your work is exquisite! You can tell you love what you do!
- The Hauck Family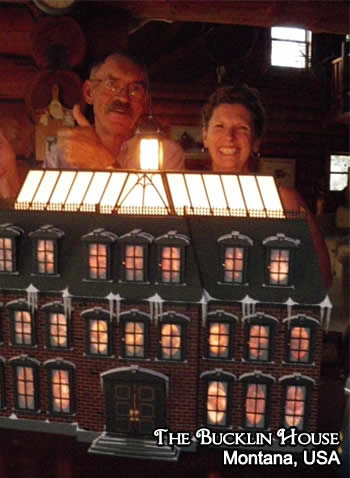 As you can see the house was a hit, my husband loved it and was really surprised. He's already figured out where it will sit when we decorate. Thanks again.
- The Bucklin Family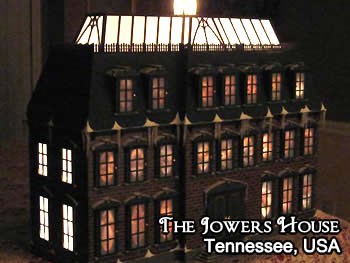 Our anniversary this year marked the end of an 8+ year quest. Actually, for as long as we can remember, my wife and I have wanted an Advent House, but then I got the idea to start poking around the Web to see if I could find one or learn to build one myself. The quest came to resounding successful finish! I finally got to see the look on my wife's face that I've waited to see, and it was worth every second.

To those reading the testimonials on Raymond's site, I'd like to add something. They say a picture is worth 1000 words, but in this case that doesn't even come close. Even after looking at the pictures on this site weekly for 3 years, NOTHING could have prepared me for how incredible the house looked when I unboxed it. I knew the dimensions, I knew the details, I knew the enhancements I had chosen, I knew the weight, and I STILL had no clue what I was getting. To say I was floored would be a major understatement. The craftsmanship and obvious love that goes into these houses is apparent from the second you see them.
- The Jowers Family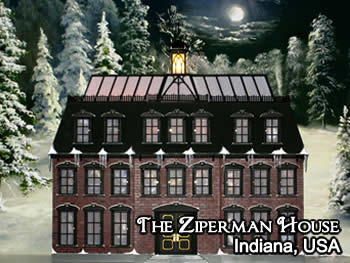 My mother opened it this morning... and she cried. I have to say, the pictures do not begin to do this house justice; the craftsmanship, the elegance, the sheer beauty of it. Once assembled and lighted, my parents and I simply gazed at it for several minutes in reverent silence. It is *that* breathtaking. It took some debate and rearranging but it already has a prominent display spot for the coming season - in fact, Mom refused to put it away until decorating day, so it is out and will stay until after Christmas.
We placed it on a shelf and my mother had a backdrop printed to enhance it. I thank you from the very bottom of my heart.
- The Ziperman Family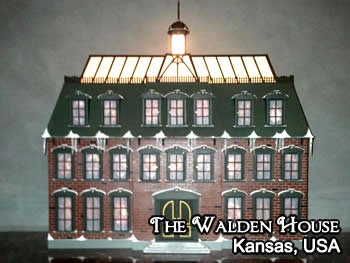 At long last, we received our Christmas Advent House, just in time for Thanksgiving. What a blessing it was! Thank you so much for your tremendous work! My wife, Chasitie, and I discovered your website about two years ago, and we immediately knew that we "had" to have an Advent House for our house.
We put our names on the waiting list and patiently waited. In the meantime, we had our second child, and we quickly outgrew our own house. So, we bought a piece of land and began the long and arduous process of building a new home. We followed every newsletter and announcement, and we learned that you would be offering a few houses on a "first come, first served" basis last Fall. We were hopeful but not overly optimistic about our chances. Nevertheless, we both logged on for the big sales event, and Chasitie was fortunate enough to get in at just the right moment.
Seconds later, we had confirmation of our order, and all we could do was wait with eager anticipation. Chasitie was so happy that I am not sure she even slept that night! As time passed, we would ask each other every few weeks whether we had heard from you or when we thought the house would arrive.
You had promised the house before Christmas 2011. As the days got closer, we wondered more and more when our Advent House would arrive. In November 2011, our new home was finally finished. We moved in and began to get settled. Just days later, we received an e-mail from you, letting us know that our Advent House was ready to be delivered. The timing was impeccable.
Within 10 days of moving into our new home, our new Advent Home was delivered. We proudly display it in our dining room, where it has taken a prominent and distinguished position. Our young children (ages 2 and 1) get excited to open a new window every morning, but I am not sure they appreciate it quite as much as their parents – at least not yet! We are so happy and thankful to have such a beautiful piece of Christmas in our new home. It certainly will be a treasured family heirloom for years and years to come.
Thank you again. We wish you the best as you continue to make Christmas dreams come true!

- The Walden Family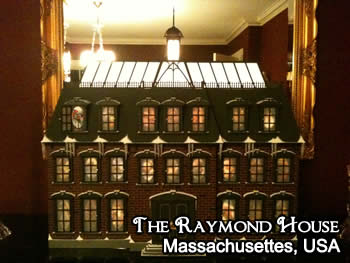 Here is a picture of my beautiful house in it's new home!
Thanks again!

- The Raymond Family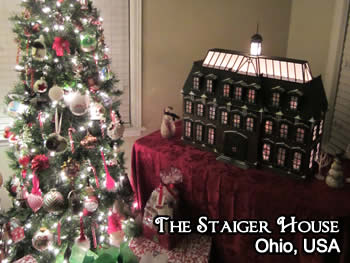 I can't tell you how much we love the house. It seems like we waited for it for so long and now since it is here I can defintely tell you it was worth the wait. It is truly a centerpiece for our Christmas...and will be for many more Christmas's to come.
And I wanted to thank you so much for the service you provided us in ensuring that the house was perfect and was here for the Advent season. Everyone that has come to see the house has been amazed and taken back by how grand the house really is. Truly remarkable. Thank you so much.!

- The Staiger Family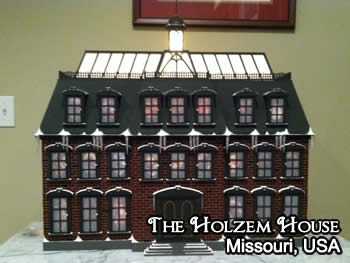 I can't even begin to express the thanks for the absolutely beautiful advent house you have created for my family! The house is more beautiful than anyone could ever imagine. I have read all the other testimonials, and the one thing we all have in common is the agreement of just how wonderful this house is.
You definitely put your heart and soul into building it, and it shows in every nook and cranny. We were so excited when the delivery man came and brought us this huge box. We knew what it was, but since it was a present for my husband, and he wasn't home, we waited until everyone in the family was together, and then opened it. It was like Christmas for all of us! I love all the details and the pictures (that is of the ones we have opened so far, today is the 12th of Dec.) are so neat!
To everyone that is on the waiting list, or waiting for their house to be built, please remember to be patient. You want Raymond & family to put as much care into your house as they do all the houses they make. It is so worth it in the end. You can see the love and care that they put into the house, and they want everyone to love their advent house as much as they do. This is truly an heirloom to be handed down from generation to generation. I know we certainly will!
Thank you Raymond & family again! Have a blessed Christmas and prosperous New Year!

- The Holzem Family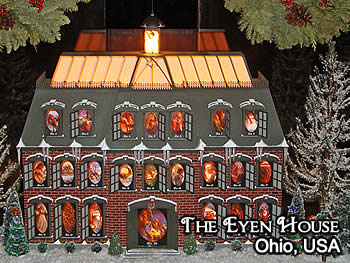 We received two amazing testimonials from the Eyen Family. This family moved their annual Christmas Party to coincide with the arrival of their Christmas Advent House. The first testimonial marks the House's arrival. The second is a review of their Christmas Party:

1.) The Christmas Advent House is something we anticipated for so long so we immediately assembled and then celebrated the its arrival.

I'm sure you hear this often, but we think the Christmas Advent House is truly amazing. My husband Mark (a little bit of a perfectionist) is the official assembler in the house and he was so impressed with detail and sharp lines.

We have lit the lights and opened the windows though today. Today we will add a little scene enhancement with snow and greenery from our Christmas village.

We both love the house and you delivered way beyond our expectations. We'll send pictures next week.

Merry Christmas.

2.) What a wonderful celebration it was! I only wish you could have been here to hear all the oohhs and aahhs! Everyone was enchanted by your Advent House! We even toasted to you and your elves with our special moose glasses!

The first thing every guest said the minute they were in our front door was: "Well, where is it? Where is it?" And one by one their eyes would light up as got closer to the house. It was all we could do not to open all the windows, but I said no - if they wanted to see rest the gorgeous pictures, they would just have to come back after Christmas!

Of course, we had to have a screening of the Christmas Vacation movie, and every time they showed the Advent House in the movie, everyone would stand and cheer! Thank you so much for finishing it in time. You and your family bring so much happiness to so many through your labors. Bless you all!

I'm sorry not to have gotten back to you sooner, but I had to recover a little from our big celebration! You see, my health hasn't been very good this year and the one thing I wanted was to get the Advent House and enjoy it this Christmas, and because of you I could do just that.

Have a wonderful Christmas, Raymond, and a joyous and prosperous New Year!

All Our Best to You and Yours.

- The Eyen Family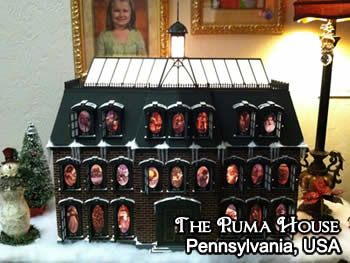 (The following review is an update to the very first Advent House we built for the Puma Family. We recent gave the house an EXTREME MAKEOVER: CHRISTMAS ADVENT HOUSE EDITION! The house was refurbished with all our latest upgrades and additions)

Just when I thought my Advent House couldn't be more perfect ...... it was given a "makeover". Since I was the very first customer, some details have been added over the years that I wanted on my house. The newer version of icicles and snow, windows, dentil molding, pictures, etc., are amazing! I really love it!

After all these years, it's still "the gift that keeps on giving!"

Thanks to you, Raymond, and your family for our cherished Advent House!!

Happy Holidays.

- The Puma Family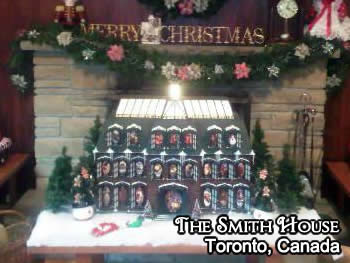 We received the most precious handwritten letter from one of our Home Owners:
Dear Raymond & Jacqueline,

I want to thank you so much for the Advent House, for the attention to detail, for the care in putting a dream together and for the gentle handling and shipping of that dream.
Thank you to jacqueline for wanting an Advent House and thus setting all this in motion!

Although, the weather outside is not frightful, yet, my dreams or should I say, nightmares, have been!
I'm hosting 17 people for Christmas dinner and my nightmares are such that there isn't a turkey roasting in the oven, the home baking just didn't get done, the gifts are not all wrapped and decorations are strewn everywhere, not to mention as in Christmas Vacation, the relatives arrive all quibbling.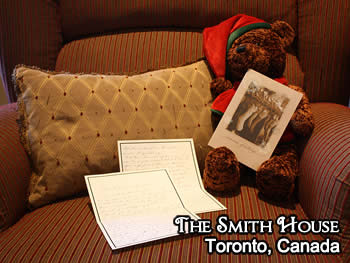 But then, I wake up to a new day, run to my beautiful Advent House, open a perfect little window, take time to admisre the lovely little picture inside, take a breath and know that this perfect house tells me that if in the day I complete my list of chores before I open another perfect little window, then my nightmares will not come true.
When I open the doors of the Advent House to welcome everyone, I will be in a state of Grace.

So thank-you for the most wonderful adornment to my home. Larry and I will treasure your work forever!

- The Smith Family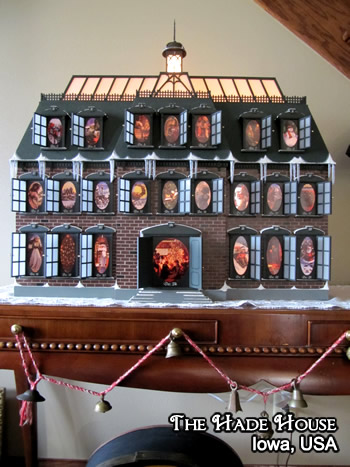 We got the new house and I am SO happy with it. As you know, I have one from a previous company, now defunct, and there is no comparison.
The details and the quality of the work in the house I received from you is vastly superior. Christmas Eve night when everyone had headed for bed I turned off the lights and just admired the house for a while. It is so beautiful and will become a treasured part of every Christmas.
I'm including a photo...I don't have it fully adorned yet (I'm thinking some trees, bushes, a picket fence, and maybe some other stuff in the future) but we'll work on it over the years to come.

Again, I want to say "thank you!" to you and your family for making my Christmas even brighter!

- The Hade Family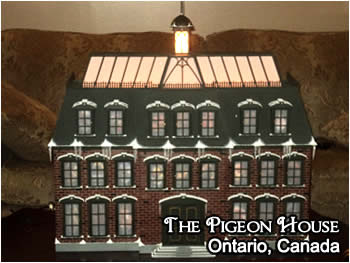 Well we have unpacked it is Stunning!!!! My husband is speechless...
and has been dreaming about it for years!!

This will make a treasured keepsake to hand down to generations
and we are so pleased to have been able to get your special craftsmanship and detail for something we will treasure and enjoy for many years to come.

- The Pigeon Family
I received the house on Tuesday. Thankfully, the only day my entire family was free at the same time while my sisters were in town was Wednesday evening.. so we gave our parents the gift then - it was meant to be! They loved it - my mom was crying! She said she'd never dreamed she would actually own the house... the look on her face was priceless! My Dad also loved it, but naturally isn't as expressive as my mother!
The house is beautiful and we had a lot of fun exploring it, putting it together, and finding a place to set it out. The details of the house were amazing and it truly looked better than the online photos. I appreciate all of your (and your family's) hard work!

- The Burns Family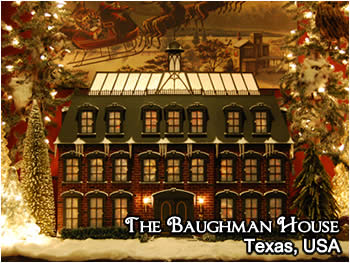 After years of searching and much anticipation we are finally fortunate enough to have our very own Christmas Advent House! We are still pinching ourselves.
Five years ago we ordered an Advent House from another company that went out of business before delivering our house. We were very disappointed but, had it not been for that experience we would have never found the Christmas Advent House website and had the pleasure of working with Raymond and his family.
The Elling's are so passionate about what they do and it is evident in the workmanship of each one of these "little works of art". Everyone that has come into our home wants to know where we got the "beautiful mansion". The Elling's made the entire process so enjoyable that even though we love our house, we were just a little sad it had ended.
Thank you Raymond and Jacqueline for making our dreams become a reality
- The Baughman Family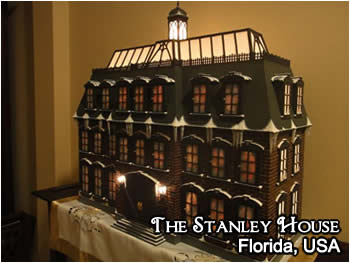 Oh….Holy…. Night…
Those were the words I said as unwrapped our Christmas Advent House. I remember getting on "the list" and not getting a house year after year, my wife would say "You could make one of those?" Well, you can't. When you sit back and look at it, you're in awe. Its human nature to look for things that could be better or done differently… you won't find any. The design, engineering, packaging and the quality are nothing short of amazing. It was so worth the wait. It's nothing like you expected it to be, it's much more.
A huge thank-you to Ray and family, as this will make our family Christmas' so special. Each house must be a huge effort. Already, my kids cannot wait to start opening the doors in December. Merry Christmas!

- The Stanley Family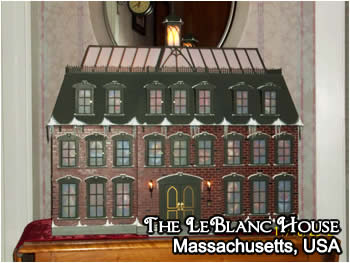 IT'S FINALLY HERE! My wait is over! Every year ...I was dying to own a Advent House! A HUGE "THANK YOU" to Raymond and his family and all the elves who work so hard to build these Masterpieces!
Everyone who has seen it LOVES it! It will be a cherished part of our family and a Christmas tradition for generations to come...Thank you from the bottom of my heart!

- The LeBlanc Family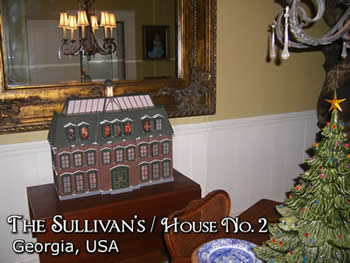 It is finally here!!! The house is beyond anything that we could have imagined! Craftsmanship is absolutely unreal and I can tell this was build with pride and now we can share the pride as owners! My family and I are truly stunned with the houses beauty and we are so very proud to own it. The house is our prized treasure and now a family heirloom.
My husband was very near tears when Fed Ex finally pulled up today as being a true Christmas vacation fan and now having the house he has always talked about :-). (The driver had broken down- Brad has been up since 6:00 waiting) When we opened the box -it was truly as if Christmas had come early. I can without a doubt say the house was worth every penny and we will treasure the house for many many years to come.
Also the detailed tag on the back with house number, family and date is just a special unexpected touch.
The way it was packaged was superb! Everything had its own spot and was so NEAT!!! Thank you for making our dream of owning this house a reality.We will be sending some pictures of the house in its new home for you to enjoy!
Again with many many thanks!
- The Sullivan Family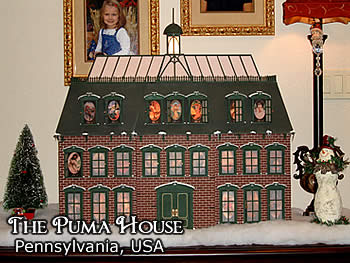 Well everyone, it's Christmas at my house today -- my Advent House arrived! It is absolutely beautiful!! I knew from the pictures that it was going to be perfect, but when you see it in person, it is truly breathtaking! Raymond thought of everything to make it exta special too - a personalized plaque on the back, a care kit, and another really clever personalized touch that he added to the house, but it's a surprise to whomever orders, so I can't tell you -- sorry! The workmanship is unbelievable. My husband loved it, and my husband's friend, who is pretty handy himself, just looked it all over and said he was "amazed that someone actually built this". My 9-year old daughter said "it's the coolest thing ever". That about sums it up -- it's the coolest thing I've ever seen too, and nobody would ever be sorry if they ordered one of these. It's a true masterpiece. So thanks to Raymond (and his wife), for making this Christmas and all of our Christmases to come extra special -- "we're gonna have the hap, hap, happiest Christmas since Bing Crosby tapdanced with Danny Kaye!".
- The Puma Family