PAGE < 1 | 2 | 3 | 4 >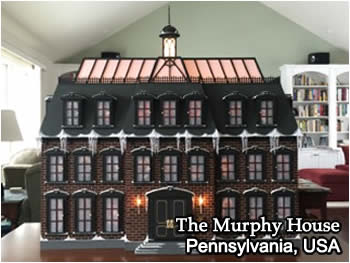 My Well . . . it's finally here! I can't recall the last time I was so excited about a parcel arriving as I have been since receiving the tracking number early Friday. I actually went to the FedEx site several times just to watch the progress of our Christmas Advent House in its travel to our home. Whereas it arrived about four hours ago it has taken me this long to come up with words to describe our pleasure and extend our appreciation.

So many before us have written just about everything one can about the quality, workmanship, detail, and wonderful appearance of the Christmas Advent House. I'm happy to say that no words, no photographs can do it justice. To actually own one is to realize what people mean when they speak of the artisanship and care that craftsmen had in a bygone era. Well, it's alive and thriving in the Christmas Advent House workshop! My congratulations to your family for maintaining such impeccable standards and producing such a great work of art. My sincerest appreciation for allowing us to share in the product of your efforts.

I wish I could say I was among the most patient customers as I wondered over the past two years when we would receive our house. I do want to take this opportunity, however, to say to others pondering whether to place an order . . . Do it! Now! You won't be disappointed and at the same time you will experience the wonder and anxiety you recall from those Christmases of your childhood. It was a long two years' wait but every minute shows in the detail and sturdy construction of our house.

In closing, Raymond, Jacqueline, and family, on behalf of <my wife>, who is every bit as smitten with the house as I, and our daughters who are already discussing which windows they'll get to open during Advent, thank you, thank you, thank you. I hope you have a great year and many more in satisfying service to your customers.

- The Murphy Family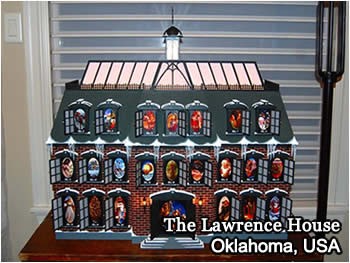 Our Christmas Advent House is even more beautiful than advertised. It was definitely worth the wait. You and your family truly outdid yourselves.
I am still in awe when I look at the details and fine craftsmanship. We are proud to own this home and display it. Thanks for everything and Merry Christmas!
- The Lawrence Family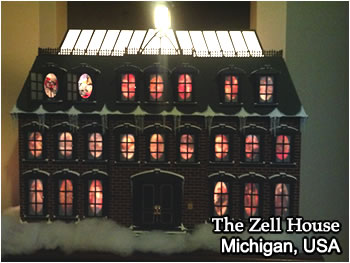 My house arrived safe and sound yesterday, and it is absolutely beautiful!! The special photo in December 23rd brought tears to my eyes. It was so worth the wait.
Again, thank you & may you and yours have a very merry & blessed Christmas.
- The Zell Family
Just got it out and assembled....The house is amazing. You and your elves have definitely made our Christmas merry and bright.
Thanks and Buon Natale.
- The Lampen Family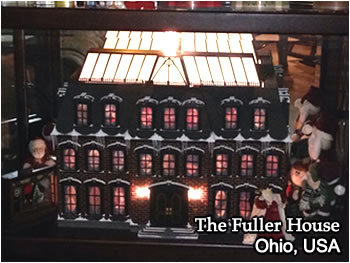 Just got it out and assembled....how can I put into words just how beautiful this is!!! I can't thank you guys enough. We just had our first grandchild this year and plan on making this a big part of our tradition with her and hopefully many more in the coming years. I now have to find a place of honor for it as the huge curio cabinet I bought when I ordered this is now full...lets just say I'm addicted to Christmas...lol. So really you guys are awesome and bring such joy to us on the receiving end of these masterpieces. So grateful to have one in our family now.
Thanks again
- The Fuller Family
It was a very Happy Friday for my husband and I today! We received our house and it is beautiful!! The details are incredible and it was so much fun looking at all the features, opening the windows and lighting up the house. Yes, I know it isn't even Halloween yet, but we've already peeked at all the images and have had the lights on.
Thank you Raymond for the beautiful work and the special plaque. It will help us keep their memories alive as we open the windows each day during the Holiday season.
- The Glawe Family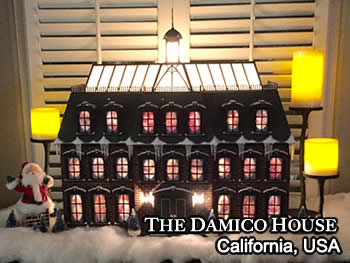 What can I say! As much as it was sad to see Halloween come and go and watch my favorite decorations put away I remembered that it as that time, give or take a few days to split the holidays but I knew it would be that time I got to display our long long long awaited Christmas Advent House!
Through receiving it 2 months ago we had to wait to display it once the time and season was right and we are thrilled to have found the perfect spot in our living room! With a little touch of fake snow and some surrounding trees it is now complete and only thing missing, hint hint, is a miniature chimney with santa we can maybe add on to the roof ;). It's that perfect and couldn't wait to put it out super early!! Thank you Raymond and thank you to your families hard work! The long wait was worth it!
Much love.
- The Damico Family
We received our house on Friday and it is gorgeous!!! I have wanted one of these for so long and I really can't believe that it is ours now!! So much care and attention to detail went into the house. We will be leaving it out until Christmas! I am so excited that we got it this year because it is our sons first Christmas. What a treasure for years to come. Thank you for doing what you do. It's worth the wait!
- The Kirkley Family
These are REAL, BEAUTIFUL houses! We received our Christmas Advent House on Friday and it is truly amazing. I still can't believe that I'm sitting here looking at one IN MY HOME! The detail and the craftmanship involved is truly impressive. Those of you waiting for your houses to arrive will not be disappointed.
You will and the wait is completely worth it! I'm so ready for December 1st!!! Thank you to Raymond and Jaqueline and Merry Christmas to all!.
- The Dunning Family
It's Here! We received it on Saturday! Looks beautiful! Well done! Well worth the wait! We will send a picture when we choose the area we wish to display it. Has to be a special place.
- The Henry Family